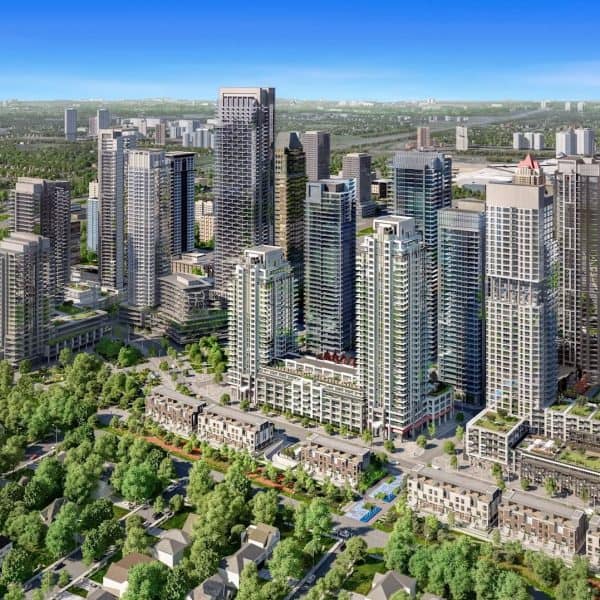 Platinum Access Condominium 42 Storeys | 930 Suites 1 – 2.5 Bedroom(s) 446 – 992 Sq Ft VIP Launch: 2021 Completion: 2026
VOYA Condos, otherwise known as Block 1 West Condos, is a new condo development currently in pre-construction by Amacon. Coming soon to Parkside Village in the heart of Mississauga's City Centre at 465 Burnhamthorpe Rd W.
VOYA Condos Highlights
VOYA Condos Parkside Village makes getting from place to place effortless. This is because of its easy access to Mississauga's main transit hub, local buses, Highways 403 and 401. Amacon's new development VOYA introduces a new spirit and energy to the community, especially with its stunning architecture and inspiring urban planning to connect and engage residents to their surroundings. The pedestrian-friendly streets lead you from parks to promenades, from cafés to condos and also from shops to services. Whatever you're looking for, you'll find all within VOYA at Parkside Village Condos.
Located in the heart of Mississauga
Easy access to HWY 403
Short Distance to Toronto from the highway
Easy access across the Greater Toronto Area
Walk Score of 90 out of 100 and a Transit Score of 86 out of 100
Steps to Square One Shopping Centre
Future Mississauga LRT is coming soon
Short walking distance from Cooksville GO Station
Convenient area to enjoy entertainment, shopping and transit including Playdium, Cineplex
Walking distance from Sheridan College
Close to Mississauga YMCA and Central Library
Toronto Pearson International Airport
Nearby parks such as Living Arts Park, Zonta Meadows and Queen Elizabeth II Jubilee Garden
Top Reasons to invest at VOYA Condos in Mississauga
1.Location: Near Square One district
Mississauga's downtown core is about to undergo a massive transformation and The new VOYA development by Amacon is set to be part of this exciting evolution in this region. Square One Shopping Centre, the largest shopping mall in Ontario sits within the centre of the city. The district is surrounded by major artery roads. Including Confederation Pkwy to the South West, Burnhamthorpe Rd W to the South East, and Hurontario St and the 403 to the north.
For decades, Square One has been an epicentre for commerce in Mississauga. The shopping centre is a massive 2.2 million square feet of retail. Shopping from Walmart to Hudson's Bay, Whole Foods to Bulk Barn, everything you could ever need is at Square One. Catch a movie at the Cineplex Cinema, or experience virtual reality and other arcade diversions at the Rec Room. With hundreds of shops, services, and amenities near VOYA, Square One has been an attraction for people from all over Mississauga. However, due to the low land usage, it has the potential to become a particularly densely developed area.
2.Transit Options
The future Hurontario Light Rail Transit (LRT) and the MiWay Bus Rapid Transit (BRT) will both run directly through VOYA's neighbourhood, while the stations are located in the heart of the development. This dedicated rapid transit will be a welcome change from the convoluted bus systems that locals and visitors have previously had to use to travel to and from the Greater Toronto Area.
VOYA Condos is bordered on one side by Highway 403, specifically connecting in the north with 401 and the 410 and to the 407 and QEW in the south. This easy highway connection, combined with the major street, Hurontario Street, without a doubt puts Square One at a nexus point for all traffic within Mississauga, and the the GTA.
3.Investment Opportunities
By 2041, it's expected that a surge of new residents will move to Mississauga and will be home to 920,000 people, and also will employ 565,000 new jobs. VOYA Condos (Block 1 West Condos) by Amacon will be at the centre of this growth and developments with immense opportunities for office space and retail space. New businesses will be flocking to this communties in Mississauga for its convenience, in addition to its new downtown energy.
As Mississauga continues to grow, new homes in the city is keeping pace. The average selling price of pre-construction condominiums in the city is $379K – a good number for families looking to set down roots, and for homeowners looking to invest. Prices per square foot continue to rise as demand increases, with the average sitting currently at $632.
4. The Developer
Amacon has built a reputation in the development industry for being passionate and creative for over four decades. With many developments under their belt in the Greater Toronto Area and throughout Canada, Amacon strive to lift the standard by creating innovative, imaginative homes and communities.
Register Today for Floor Plans and Sales Price
Please register today at Amacon's VOYA Condos Mississauga or contact one of our platinum brokers, specifically for more information on sales. With exclusive first access, you will receive floor plans, unit selection, price lists, as well as incentives with your request.
VOYA Condos Property Details
Building Amenities
24hr Concierge
Lobby Lounge
Indoor Kids Play Area
Guest Suites, Party Room
Pet Grooming Area
Exercise Area, Yoga Studio
Business Lounge
Outdoor BBQ and Dining Area
Outdoor Kids Play Area
Large Outdoor All Season Hot Tub
Cost of Parking: $50,850 (units under 500 sq.ft will be waitlisted)
Cost of Locker: Included (Valued at $4,000)
Deposit Structure:
$5,000 due on signing
Balance of 5% in 30 days
2% in 90 days
2% in 120 days
2% in 150 days
2% in 500 days
2% in 720 days
5% on Occupancy
Current Incentives
Extended Deposit
$5,000 on signing | Balance to 5% in 30 days | 2% in 90 Days | 2% in 120 Days 2% in 150 Days | 2% in 500 Days | 2% in 720 Days | 5% on Occupancy
Free Assignment (Valued at $5,000*)
Right to Lease During Occupancy (Valued at $3,500*)
Free Locker (Valued at $4,000)
Capped Development Charges
– Units under 700 sq. ft. capped at $12,000
– Units 701 sq. ft. and larger capped at $15,000
Window Coverings Included Medicine Cabinet Included
Smart Home Package with Keyless Entry
Contact form
REGISTER FOR FREE TO RECEIVE FLOOR PLANS & PRICE LIST & MORE DETAILS