s

tudio 2 on richmond Condos
 is a new condo and townhome project located at Richmond St W & Duncan St in Toronto.will be developed by Aspen Ridge Homes.
Studio 2 Condos has 41 storeys with a total of 425 units and  is scheduled for completion in Fall/Winter 2015
From Studio 2:

Studio on Richmond is the quintessential urban condominium development, anchored firmly within its context at ground level, and soaring to the skies in its two towers. The lower floors engage and add to the vibrancy of city life, and architecturally help to "heal the streetscape," as vacant parking lots are transformed into vibrant streets. The robust bulk of the building façade on Duncan Street harkens back to an industrial aesthetic but with a contemporary vocabulary, helping to frame the OCAD building occupying the corner of Duncan and Richmond. Studio 2 features dynamic retail spaces at the corner of Duncan Street and the soon-to-be revitalized Nelson Street – imagine a restaurant, café or high-end furniture showroom. Along Nelson Street is a row of stunning contemporary and very flexible townhomes, urbane in style and able to dress as city residences or funky work spaces.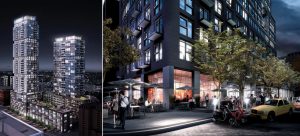 Studio 2 on Richmond Condos project summary
PROJECT NAME: Studio 2 
ADDRESS:Richmond St W & Duncan St, Toronto
PROJECT TYPE: Condominium, Townhome
DEVELOPER(S):Aspen Ridge Homes
ARCHITECT(S):Quadrangle Architects Ltd.
UNITS:425 units
STOREYS:41 storeys
ESTIMATED COMPLETION DATE:Fall/Winter 2015
REGISTER FOR FREE TO RECEIVE FLOOR PLANS & PRICE LIST & MORE DETAILS