Riverside Square Condos In Toronto By Streetcar
Following the massive success of Riverside Square Phases 1 and 2, we are so, so excited to announce the FIRST RELEASE of PHASE 3 – STARTING FROM $490 PER SQUARE FOOT – AND YOU CAN RESERVE YOUR SUITE AHEAD of the sales event!  Riverside 1 and 2 were so successful that they literally sold out within a few weeks of launch
Riverside Square Condos is a new condo projects located at 677 Queen Street East (Queen St E & Broadview Ave) in Toronto. Developed by Streetcar Developments. The project Occupancy Date is May 2018
Riverside Square Condos Platinum VIP Access- Starting from $209,900
24 Stories    – 252 Suites
470 sq ft – over 2098 sq ft
Maintenance $.53 Sq. Ft
Lockers Platinum $5,000 – Regular Price After Platinum $12,000
Parking Platinum $25,000 – Regular Price After Platinum $35,000
Occupancy: January 2018

Platinum Specials
$10,000 Off 1 Beds
$15,000 Off 1+ Dens
$20,000 Off 2 Beds and Larger
Locker: Platinum Price $5,000
Parking: Platinum Price $25,000
FREE Assignment
Caps on Development Levies
FREE Right to Lease During Occupancy
Extended Deposit Special 10% First Year, 5% on Occupancy:
$5000, Balance of 5% in 30 days, 5% in 180 days, 5% in 370, 5% on Occupancy
Occupancy Commencing: May 2018
For More Details Contact: Bingbing Jiang @ 416-828-6208 or Register Receive Floor Plans & Price List
Riverside Square Condo has a Walk Score of 90 out of 100.
Riverside Square Condos is a Walker's Paradise so daily errands do not require a car.
Riverside Square is one minute walk from the 301 QUEEN, the 501 QUEEN and the 502 DOWNTOWNER at the QUEEN ST EAST AT CARROLL ST stop.
Riverside Square Condos in the South Riverdale neighborhood in Toronto. Nearby parks include Thompson Street Parkette, Sumach-Shuter Parkette and Jimmie Simpson Park.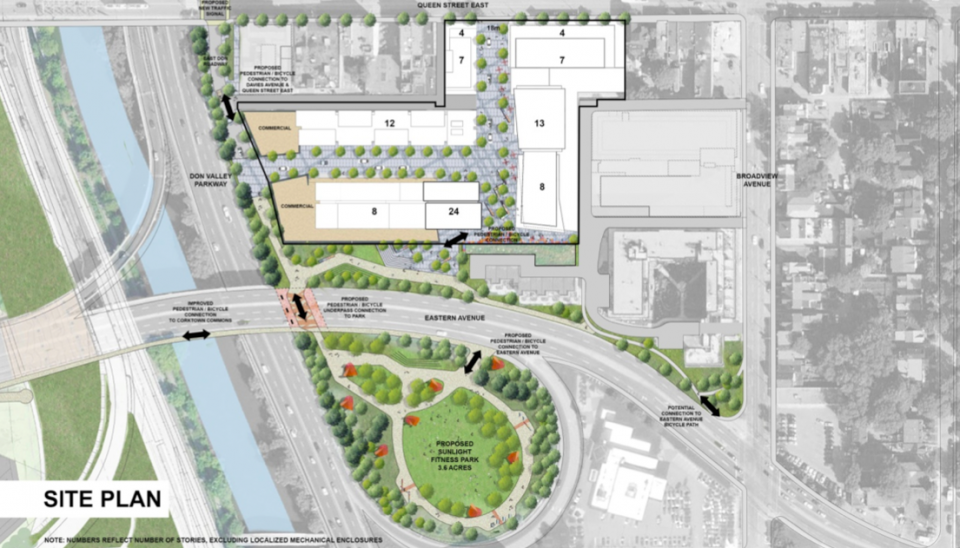 There are a total of 4 structures that differ in height (see Site Plan Above). The massing is arranged to focus density and height far from Queen Street to the south and west in favor of a mid-rise form along Queen that is in keeping with the existing built kind (4 stories along Queen stepping back and as much as 7). In the middle of the site there are 12 and 13 story heights and at the south end along Eastern we propose 8 story heights and a 24 story point tower (little 750m2 floor plate). The tower has been set roughly 300 feet back from Queen Street and 440 feet back from Broadview Avenue to eliminate shadow and visual effects on Queen and the Neighbourhood east of Broadview. The 8 story structure heights surrounding the tower enable sunlight to permeate the middle of the site and to continue reaching our existing neighbors to the east at 90 and 68 Broadview.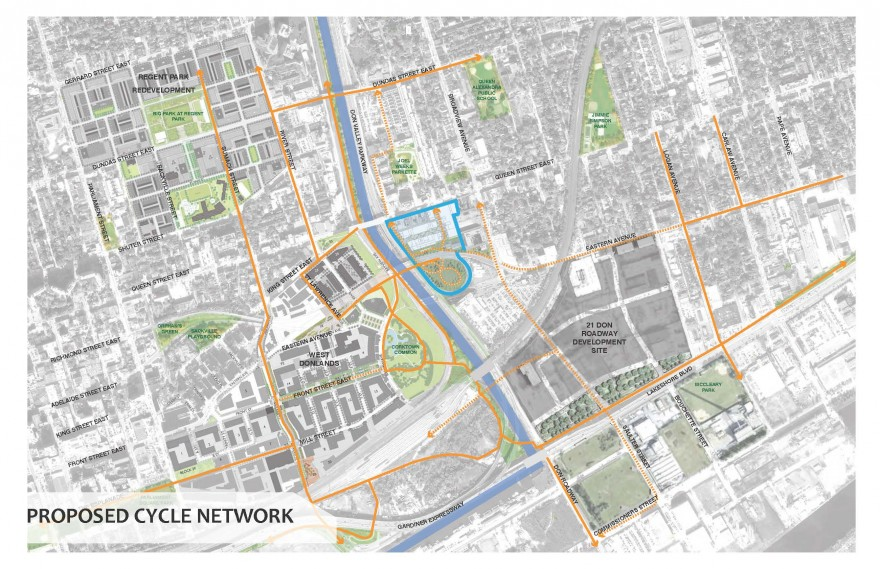 PROJECT  STATISTIC
In overall, there are 894 units proposed which 46 % are two bedroom or bigger. The resulting site density is in keeping with densities existing in the instant place at 5.21 times the whole lot area. In contrast, the existing structure at 90 Broadview has a site density of 5.83 times the lot location and the building at 630 Queen East has a site density of 5.12.
536 domestic parking spaces (consisting of visitor) and a public parking lot including 160 spaces are planned. A more 61 spaces are dedicated to support non-residential uses for a project for a total of 722 parking areas. Similarly as crucial are the 851 bike parking areas which will certainly be accessed through a devoted bike ramp. In conjunction with parking a traffic operations evaluation was performed. It was figured out that the two accesses (Queen/Davies and Queen/Munro) can effectively service the site without effect to existing traffic flows with the addition of an extra traffic signal and crossing at Queen and Davies.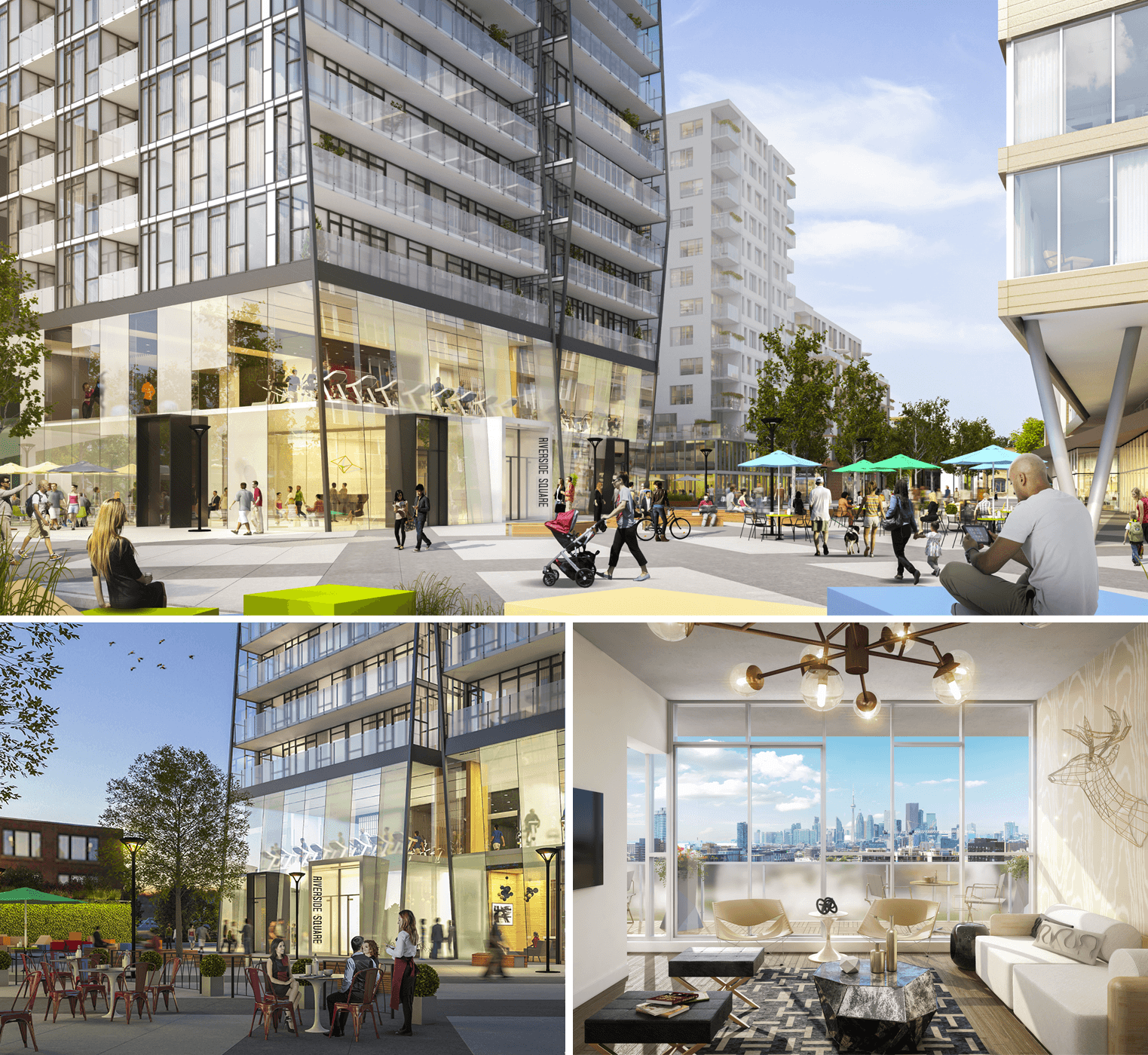 W

hy Invest @ Riverside Square?
> PRICED UNDER MARKET VALUE WITH POSITIVE CASH FLOW
UP Investing (TM) is my simple tool that I teach my clients to use for determining a sure-fire condo investment.Units are starting from as low as $490 per square foot at Riverside Square and the average for the whole building is just $540PSF.

Currently existing resale buildings that are just steps away from Riverside Square are averaging $620-700PSF today.
>  FIRST BUILDING ON THE EAST SIDE WITH ROOFTOP POOL
The building will have it's own outdoor rooftop infinity pool.
This has never before been done in any building in this area and will set this building apart, making it amagnet for young professional renters and buyers.
Features like this in a building translate into premium rents and resale values for investors.
>  GROCERY STORE IN THE PROJECT

There are plans for a grocery store (possibly a Metro) in the second phase of Riverside Square, bringing something that is badly needed to this pocket of the city.
Anytime you get a grocery store in your building or next to your building that drives rental and resale values up. People love the convenience factor and it adds to the urban lifestyle that today's buyer is seeking.

The master plan for Riverside Square also calls for multiple retail spaces, cafes, pedestrian walkways and even a brand new park.
The community will have a very European feel to it.
 > 5 MINUTE WALK TO SMART TRACK AND UNILEVER SITE

The project is strategically located just a 5 minute walk away from the proposed Smart Track rapid transit station which would take you to Union Station direct with no stops in just a few minutes.
It's also a 5 minute walk away from the proposed Billion dollar Unilever site that First Gulf owns and is in the process of rezoning for Toronto's version of Canary Wharf – a modern office neighbourhood employing up to 70,000 people in the future.

Of course the 24-hour Queen Street streetcar is right at your doorstep as well.
> HOTTEST NEIGHBOURHOOD ON THE EAST SIDE

Riverside neighbourhood is booming. Resale homes and condo prices in the area are appreciating like crazy.Seems every week a new shop or restaurant is opening on Queen street East.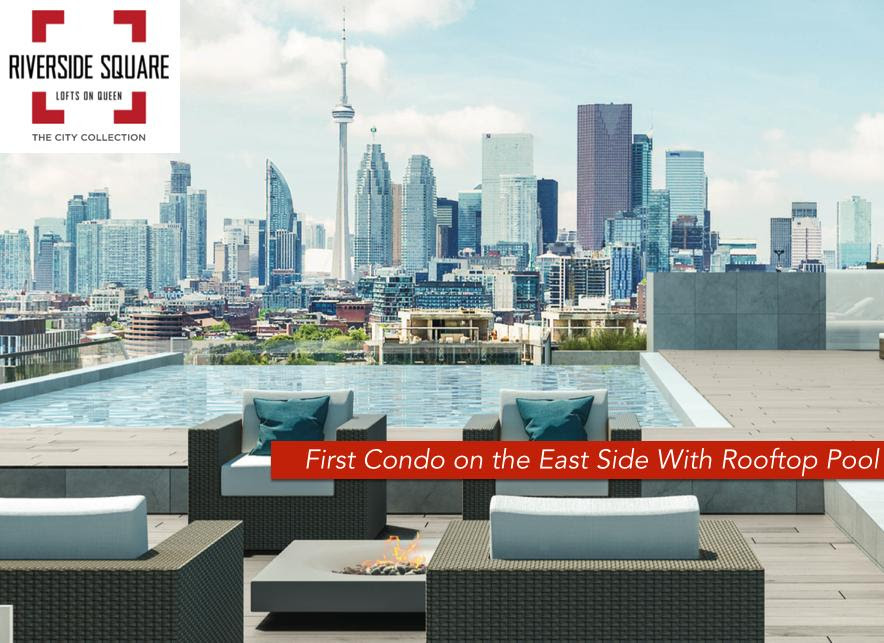 PROJECT SUMMARY

:
PROJECT NAME: Riverside Square
ADDRESS: 677 Queen Street East,Toronto
PROJECT TYPE: Condominium
 DEVELOPER(S): Streetcar Developments
ARCHITECT(S): RAW Design
UNITS:24
STOREYS:252
UNIT SIZES:  470 sq ft-over 2098 sq ft.
MAINTENANCE: $.53 Sq. Ft, Parking $45, Locker $12
LOCKER – $5,000
PARKING – $35,000
PRICE RANGE: TBA
ESTIMATED COMENPLETION DATE: 470 sq ft-over 2098 sq ft.
---
REGISTER FOR FREE TO RECEIVE FLOOR PLANS & PRICE LIST & MORE DETAILS