M

usée Condos
is a
new condo
and townhome project located at Bathurst St & Adelaide St W in Toronto, will be developed by Plaza.
This new pre-construction condos and townhome project has a total of 440 units. Price for available units from $291,900. Unit Size From 509 Sq Ft To 1343 Sq Ft
The estimated completion year is 2016.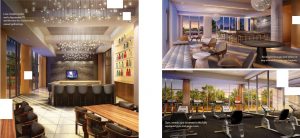 From Musée Condos:
Amidst a civilized, tree-lined pocket off Adelaide West, near the vibrant street scene along King Street West, is a cosmopolitan condominium like no other. Musée elevates the urban experience with places and spaces
that prompt surprise and delight.
The 21-storey building brings an unmistakable gravitas to the neighbourhood. The dark and dramatic, stone-like base is paired with a luminous glass tower. Brilliant splashes of colour are scattered throughout, much like an immense painted canvas of a field accented with bunches of bright wild flowers.
The modern lobby with its long, low Zen fireplace invites the outside in. Dramatically long and deep sofas interrupt texts and tweets with a social space that encourages lounging and laughing with friends. With dramatic architecture, exquisitely detailed interiors and luxurious amenities, Musée presents an uncompromisingly sophisticated take on urban style.
Musée has taken up residence in the midst of an historic part of the city. Where horse drawn carriages once clopped along cobblestone streets, Musée residents can now stroll gracefully along beautifully paved mews and saunter under heritage archways to be connected to a series of charming lanes and canopy covered walkways. Everywhere you turn, there's an opportunity to discover and explore.
A long pedestrian galleria showcases rotating art exhibits. Running the length of Musée, the galleria spills out onto Adelaide Place and the surprising delight of discovering an 8,000 square foot parkette enhanced by sculptural installations. Cars are noticeably absent from the landscape. Access to the underground parking is discretely tucked away, making Musée an extraordinarily people-friendly oasis in Toronto's downtown urban core.
Amenities
Lounge, Party Room, Spa ,Exercise Room, Courtyard,movie, roof deck, sauna, swimming pool
Project summary
PROJECT NAME: Musée Condos
ADDRESS:Bathurst St & Adelaide St West, Toronto
PROJECT TYPE: Condominium, Townhome
DEVELOPER(S):Plaza
ARCHITECT(S):Quadrangle Architects Ltd.
UNITS:440 units
STOREYS:21 storeys
UNIT SIZES: From 509 Sq Ft To 1343 Sq Ft
PRICE RANGE:(AVAILABLE UNITS)From $291,900
ESTIMATED COMPLETION DATE: 2016
REGISTER FOR FREE TO RECEIVE FLOOR PLANS & PRICE LIST & MORE DETAILS