The LakeShore Condos(was called west block 1928 Condos) is a new condos,office and retail development located at Bathurst and Lake Shore West In Toronto. Developed by  concord adex. The Project Will included residential units ,office space and retail space, the loblaw supermarket will be in ground level.  as well as  lots amenity spaces.
The Facts Of the Project
50,000 sq.ft Loblaws Flagship Supermarket
11,000 sq.ft Restaurant
87,000 sq.ft High Quality Daily Needs Retail
23,000 Sq.ft Fitness & Recreation Amenities
"VIP ONE DAY ONLY"
NOVEMBER 15th, 2015
Exclusive Release
Exclusive Pricing
           SPECIAL BONUS FOR ONE DAY ONLY SALE EVENT
The LakeShore Condos (was called west block 1928 Condos) site is positioned on Bathurst and Lake Shore West, includes approximately 22,760 square metres of retail and office space in a seven-storey building housed in the reconstructed warehouse, 876 residential units in two towers (37 and 41 storeys) on the northern side of the site, a planned public art installation and café under the Gardiner Expressway, and approximately 600 underground parking spaces.The retail space will be anchored by a 4,645 square metre Loblaws Great food store that will serve a neighbourhood that has seen rapid residential growth in recent years. West Block is currently slated to open in Spring of 2019.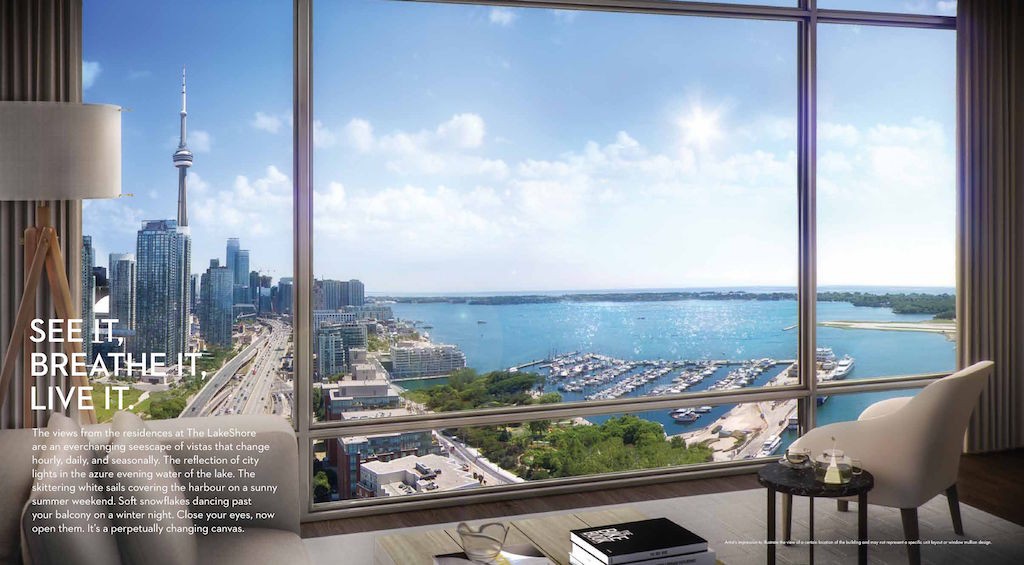 The LakeShore Condos (was called west block 1928 Condos) site will step to Loblaws Great food store, close to the shopping plaza, street car, TTC service, close to the park and beside the lake. few minus drive to the CNE.
About West Block
• Property spans an entire city block consisting of approximately 3.5 acres of land;
• The seven storey commercial building will be approximately 245,000 square feet of gross leasable area, fronting onto Lake Shore Boulevard West;
• The commercial building will include a 50,000 square foot Loblaws Great food store, complementary retail and office space;
• Concord Adex, which has entered into an agreement to acquire the air rights to the property, will be constructing two residential condominium towers consisting of 37 and 41 storeys in height, containing 876 dwelling units in total with a residential gross floor area of approximately 575,000 square feet;
• Under the Gardiner Expressway, a common space will showcase the culture and vibrancy of Toronto through a display of public art;
• Three levels of underground parking is proposed with a total of approximately 600 parking spaces;
• The West Block is projected to open by Spring 2019
The LakeShore Condos has the walk Score is 92 out of 100, Transit Score is 99 out of 100. This location is Waterfront Communities-The Island neighborhood in Toronto. Nearby parks include Little Norway Park, Toronto Music Garden and Coronation Park.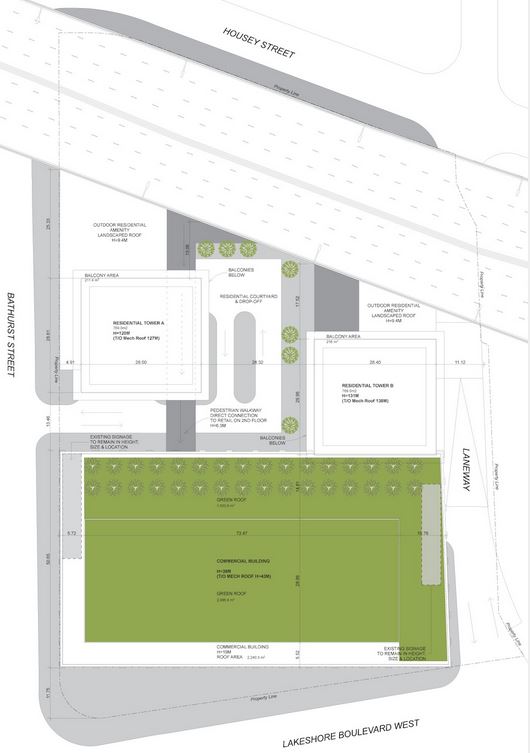 PROJECT SUMMARY:
PROJECT NAME:  The LakeShore Condos
ADDRESS: Bathurst and Lake Shore West In Toronto
PROJECT TYPE: Condominium, Retail,Office
 DEVELOPER(S): Cornord Adex
ARCHITECT(S):architectsAlliance, ERA Architects, Page + Steele / IBI Group Architects
UNITS:total of 876 units
STOREYS: 7, 37, 41
UNIT SIZES: TBA
ESTIMATED COMPLETION DATE: Spring,
2019
REGISTER FOR FREE TO RECEIVE FLOOR PLANS & PRICE LIST & MORE DETAILS